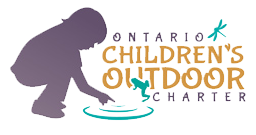 Vision & Principles
Vision

Principles

Every Child in Ontario will have the chance to:

DISCOVER

the wonders of nature in all of Ontario's seasons through active outdoor experiences;

DEVELOP

a connection with nature that inspires appreciation and a sense of caring;

EXPERIENCE

free active time in the outdoors and have regular contact with nature;

PLAY

in natural spaces within their community;

LEARN

about and take action to conserve Ontario's rich diversity of plants, animals and ecosystems; and

UNDERSTAND

and celebrate Ontario's biodiversity and cultural heritage.

ACCESS:

All children should have access to nature in their neighbourhoods and in the broader community. The creation of networks of parks and protected areas, trails, conservation areas and other public natural spaces enables this access.

DISCOVERY:

Children should have formal and informal opportunities to discover and learn about nature through outdoor play and exploration.

AWARENESS:

Families, communities and decision-makers across Ontario should be aware of the many personal and societal benefits of connecting children with nature, and take action based on this awareness.

STEWARDSHIP:

Children develop a deep personal understanding of and care for the natural world through outdoor experiences, and should learn how to take action to protect biodiversity and use resources sustainably.